Microsoft big data solutions help to make better business decisions by analyzing massive amounts of data. Avail the best offers on big data here.
BIG DATA – Growing bigger, Too Big to ignore!
72 hours of Youtube video is uploaded every minute
92% of the worlds data create in last 2 years
US – Doubles it in 3 years, India and China goes 24 fold by 2020
30 billion pieces of data added to facebook each month
Annual growth rate 60%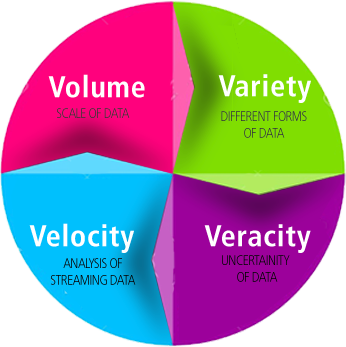 Every 60 Seconds
98000 Tweets
11 Million instant messages
168 million+ emails sent
700000 Google searches
Sophisticated analysis of this data at the right time can unlock BIG values to gain right and actionable insights. The businesses can compete and differentiate themselves through otherwise hidden valuable insights to create the next generation products and services.
Artificial Intelligence and Business Support System
Artificial Intelligence is to use the power of computers to augment human thinking, just as we use motors to augment human or horse power. We use a computer's artificial intelligence to understand how humans think, in a humanoid way. Acting as business support system, we augment Decision making.
Natural language processing (NLP) is one of the most important technologies of this information age.
Understanding complex language utterances is also a crucial part of artificial intelligence.
People communicate most everything in language: advertisement, emails, web search, customer service, etc.
Computer can automatically improve performance based on Experience
Machine learning models powering NLP applications, automatically learn through the analysis of large data of typical real-world examples
Recently, deep learning approaches have obtained very high performance across many different NLP tasks.
These models can often be trained with a single end-to-end model and do not require traditional, task-specific feature engineering.
Business leaders are drowning in data and the deluge has just begun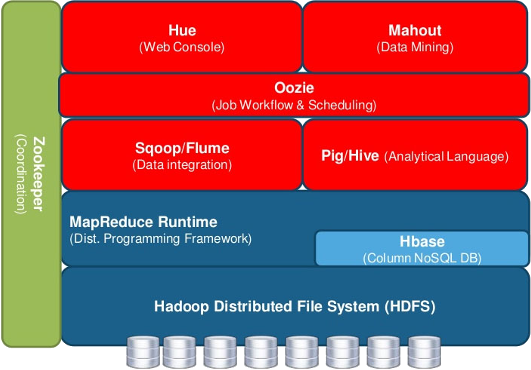 Our Big Data services are based on Hadoop, HDFS and MapReduce Ecosystem
Involve all business units in your BigData strategy.
Evaluate all delivery models.
Think of your traditional data sources a part of your big data strategy.
Plan for consistent metadata.
Do distribute your data.
Don't reply on a single approach to BigData analysis.
Don't go big before you are ready.
Integrate diverse data.
Don't forget to manage data.
Don't overlook the need to manage the performance of your data.
Big Data Consulting Services
Creating a data catalog and identifying the Big Data in the organization including public Big Data source
Top-down approach: From enterprise architecture blueprint, create a set of use cases that are important for business
Bottom-up approach: Create a set of use cases that are easy to solve without changes to the data architecture
Create pilot programs
Solution implementation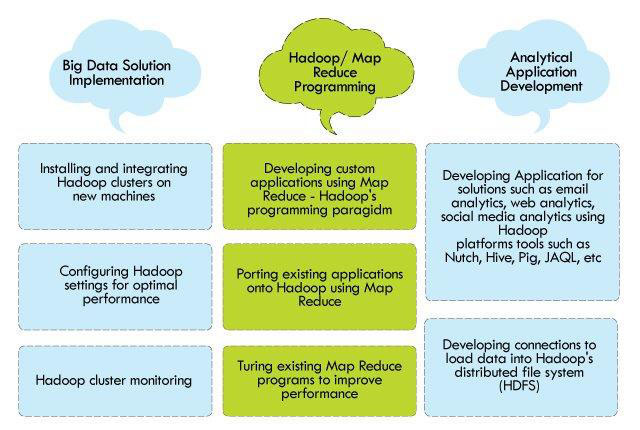 Big Data Implementation Services
Solution Architecting
Finalize Big Data reference architecture
Install, tune and test Big Data platform to implement Big Data projects
Big Data Solution Services
Implement Data ingestion features
Implement Processing features
Implement Data Access
Implement Visualization
Big Data Platform Services
Establish architecture and governance strategies such as security, multi-tenancy, data retention
Establish standards, guidelines and associated processes for developing, testing and deploying the solution
Providing intellectual inputs